OAK HILL — Two 5th grade classes at Collins Middle School in Oak Hill are gearing up for the year 2026 as they take part in a Science, Technology, Engineering, Art and Mathematics (STEAM) initiative regarding the short story "There Will Come Soft Rains" by Ray Bradbury. 
"There Will Come Soft Rains" was written in 1950, and tells the story of the only house that has survived a nuclear blast in Allendale, California, in 2026. The house contains automated systems, not unlike a modern-day smart house, and gives personality to inanimate objects in the story.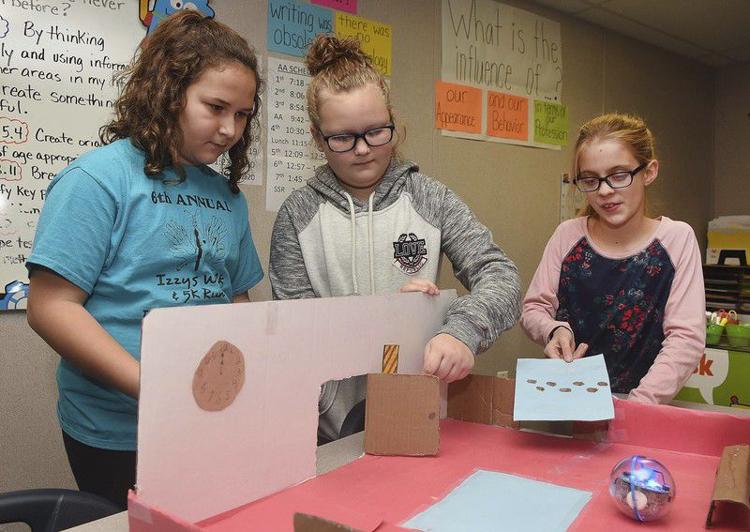 Fifth grade teachers Lynette Farr and Melanie Swisher made the choice to do a cross curriculum activity involving spherical robots, where students were able to code their own robots and build dioramas mocking scenes from the book, allowing the two to go hand-in-hand. 
Farr, the business, education and exploratory teacher at Collins, said she wanted to integrate the STEAM initiative with an area you wouldn't typically see technology, so she reached out to Swisher, the reading and language arts teacher, for help.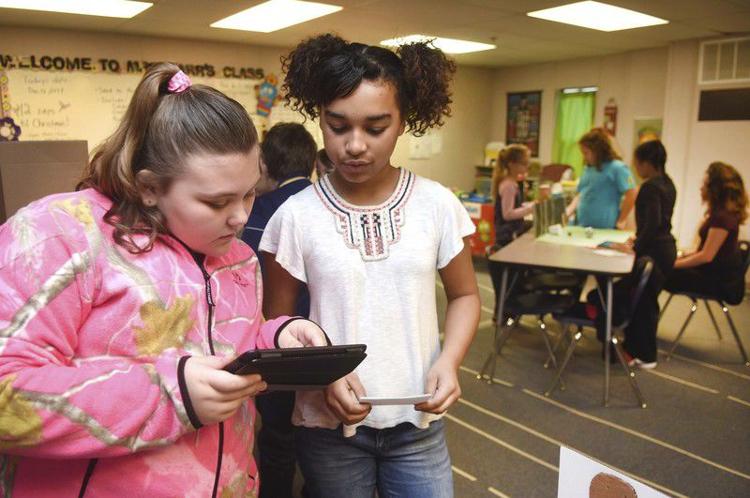 Swisher said she wanted to think of a short story that really brought technology to life, and although it took her some time, she thought Bradbury's story was the perfect fit, even if it was on an eighth grade level, instead of fifth. 
"When I think of technology in a story, I automatically thought of this one," Swisher said. "This story is actually told to us by pieces of technology, and I just thought that was really cool."
To her own surprise, Swisher's students seemed to catch onto the story and understood the underlying details, even on its advanced level.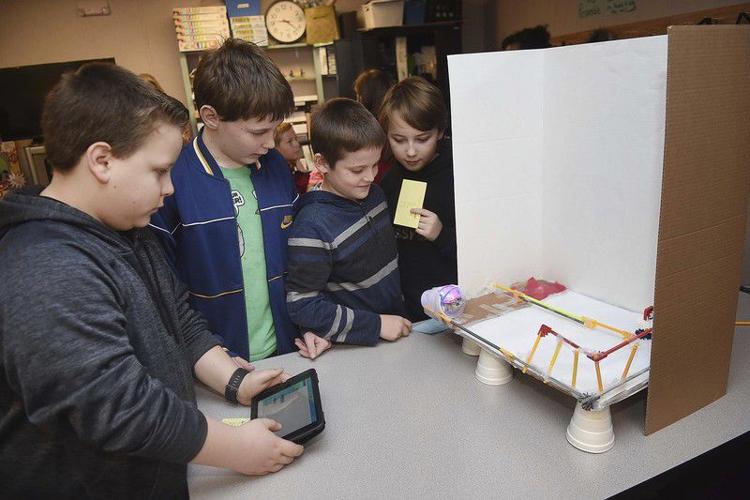 "I thought I would have to explain a lot of it to them, but they were all able to understand a lot of it on their own," she said. "They caught on very quickly." 
Swisher helped students understand key facts within the story, its theme, and most importantly, the personification the story entails. 
Personification is the the attribution of a personal nature or human characteristics to something nonhuman, and Swisher said this was the main idea of the project. 
Once students had a clear distinction of what Bradbury's story was all about, they were sent across the hall to Farr's classroom to bring the story to life.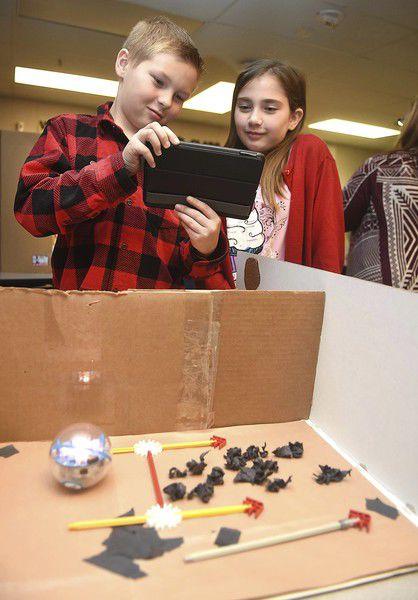 Students formed small groups and picked a part of the story they wanted to make their own. Students then each received a spherical robot which they began to code, making it a character within the story. 
For about a month, Farr worked with her students by teaching them how to code their spherical robots with their tablets, using a drag-and-drop method. 
"They basically drag and drop little pieces of instruction to make one big puzzle," Farr said. "That puzzle will then be formed to make their robot do everything within that puzzle." 
Once students hit the go button on their tablet, the spherical robot follows all orders. 
Farr said students coded their robots to best represent their scene from the book.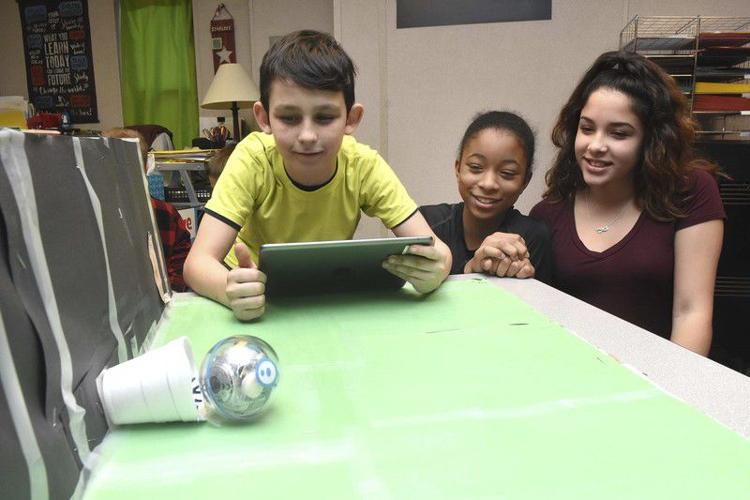 Fifth grade student Addy Salvatore explained how her group coded their robot to represent a dog from a scene in the story. She dragged and drop pieces to make the robot move forward and backwards and give it human-like traits. 
"The dog in the story was used to recognize mice coming into the house," Addy said. They're robotic mice in the story, so it was really cool to be able to read about the robots, then actually code one in real life. 
Emily Harlan, also a fifth grade student, said she prefers using the spherical robots instead of sitting in class and writing on paper. 
"It's hands on," she said. "I think you can understand the story a lot more when you are actually trying to bring it to life." 
Emily said the project has helped give her a better understanding of what personification means, because at first she was a little confused. 
"I liked being able to basically act out a scene from the story, all while using robots," she said. "The story gave a lot of inanimate objects personalities, and that's what we're doing with this robot." 
"Actually doing it ourselves was the best part."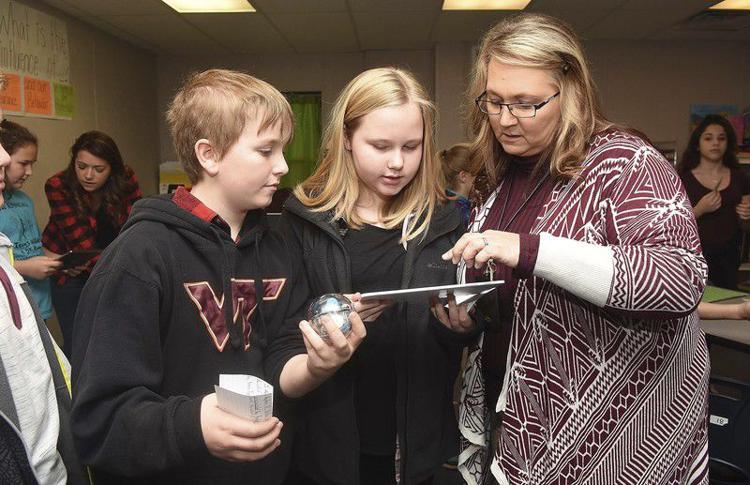 Farr said her students have never known a time without technology, so she wanted to use their expertise to her advantage in hopes they would understand the project better. 
She wasn't let down. 
"They are so technologically savvy," Farr said. "I can't even count the amount of times I'll be teaching them something, and they'll actually show me an easier and better way to do it. It's often like they are teaching me." 
"Times are always changing, and it's important we teach our students in the best way that will benefit them." 
Farr and Swisher's students will present their scenes from Bradbury's story using their dioramas and spherical robots at Fayette County's Board of Education meeting Tuesday, Jan. 9.