Dewey Houck has worked hard all his life. Today, at the age of 82, he is still working, but now as a volunteer and community leader.
After retiring from the railroad at the age of 55 in 1989, he went to work to give back to his beloved community.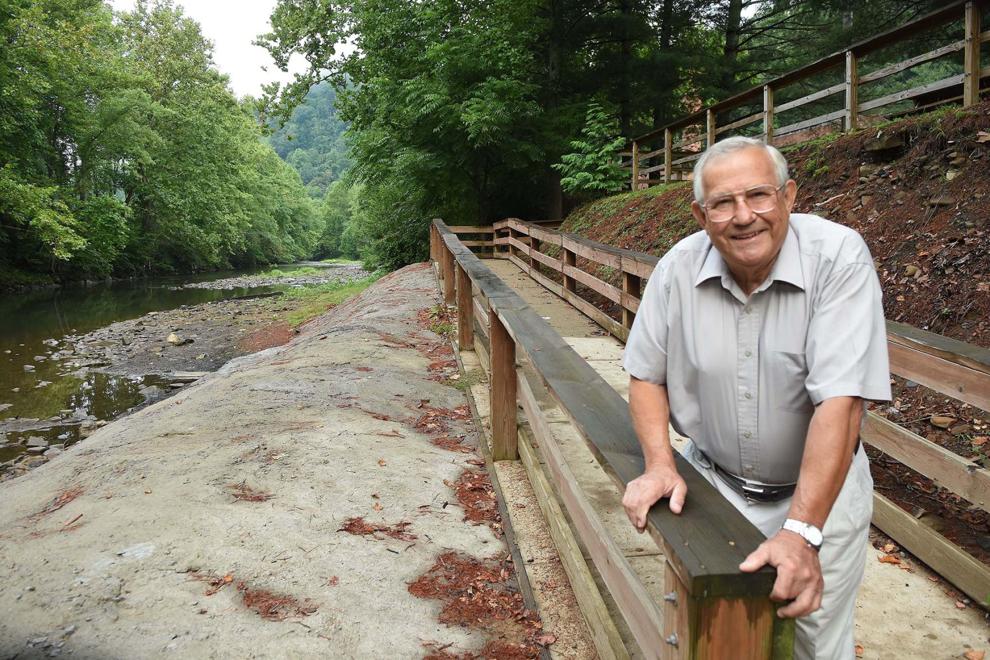 Today, nearly three decades later, he is president of the Rural Appalachian Improvement League (RAIL) which has built a very successful community center in the former Mullens Grade School building. Known as the Mullens Opportunity Center, or MOC, the center houses a variety of activities, and opportunities, for residents.
You currently reside where?
I have a house in Roanoke, Va., that I share with my daughter. I am making my primary residence in Pierpont, in a house built especially for me by my friends. I also have a room at the MOC where I have lived since my wife died about a year ago.
How many children?
I have two children that I am very proud of. My son, who was born at the Mullens General Hospital in 1956, just retired from Boeing as a senior vice president. My daughter, born in Bluefield, is a medical doctor and Lieutenant Colonel in the U.S. Army Reserve.
Education, degrees:
I graduated from Mullens High School in 1955 and married fellow classmate Sheila Snyder. We joined in marriage that same year and began attending Concord College. After a year and half at Concord, I took a job with the Virginian Railroad in Mullens that was much better suited to my upbringing and educational capacity.
Where did you grow up?
I was born in Pierpoint in 1934. We moved to Otsego, Mullens, Wyco, and then back to Pierpoint when I was in the fourth grade. I went through the eighth grade at Maben Grade school.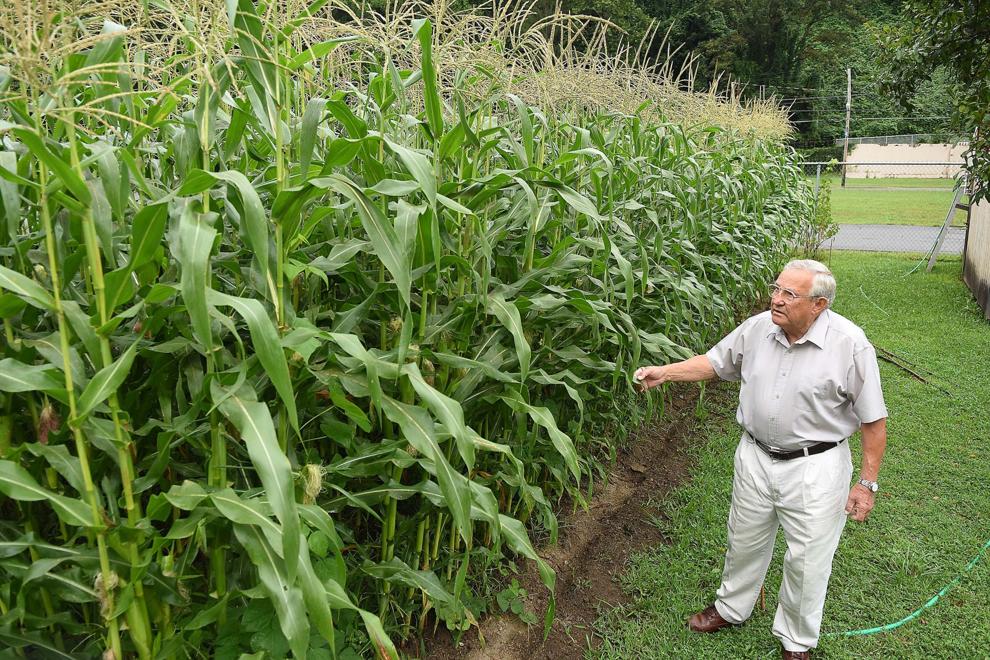 Share a story that best typifies your childhood.
Like many youth of my culture, I quit high school in the ninth grade. Going from a small school, such as Maben, where many of the teachers taught two classes in the same room, I was not properly prepared for high school. The high school teachers taught the brightest and those of us who could not keep up were quickly getting failing grades.
Rather than being embarrassed, I took the easiest way out. I tried coal mining and truck driving, but pressure to get me back into high school, from my parents and other family, did not cease.
The best thing that ever happened to me was going back to high school where I met Miss Sheila Snyder.
The second try at high school presented no problems with grades, it was some of the best years of my life. I graduated the oldest in my class.
Who, or what, has been the biggest influence in your life and why?
My life began with a loving mother and father that were role models and taught me the value of family and community.
My wife instilled in me that we are all God's children and we must do good for all and not discriminate.
My church (Presbyterian) taught me to witness by doing good for others.
I was fortunate to take a job with the Virginian Railroad in 1957. My career, with the railroad, that I felt was honest and well managed, supported my modest family lifestyle and now retirement.
All these influences shaped my life and prepared me to give back to the society that had given me a good life.
How would you best describe your work ethic?
I believe in, and practice doing, the best I can at whatever I attempt.
You were retired from the railroad, then organized RAIL; is that right?
I retired from the Norfolk Southern Railroad in Atlanta, Ga., in 1989 at the age of 55. The first 10 years of retirement were spent volunteering on projects that were meaningful, but had little effect on the society that had provided a good life for me and my family.
My health was good and I had a modest pension that would allow me to return to my favorite place in the world to spend a couple years doing community service in Wyoming County. I have spent most of my time here ever since and I hope to spend as much of my remaining years as possible here.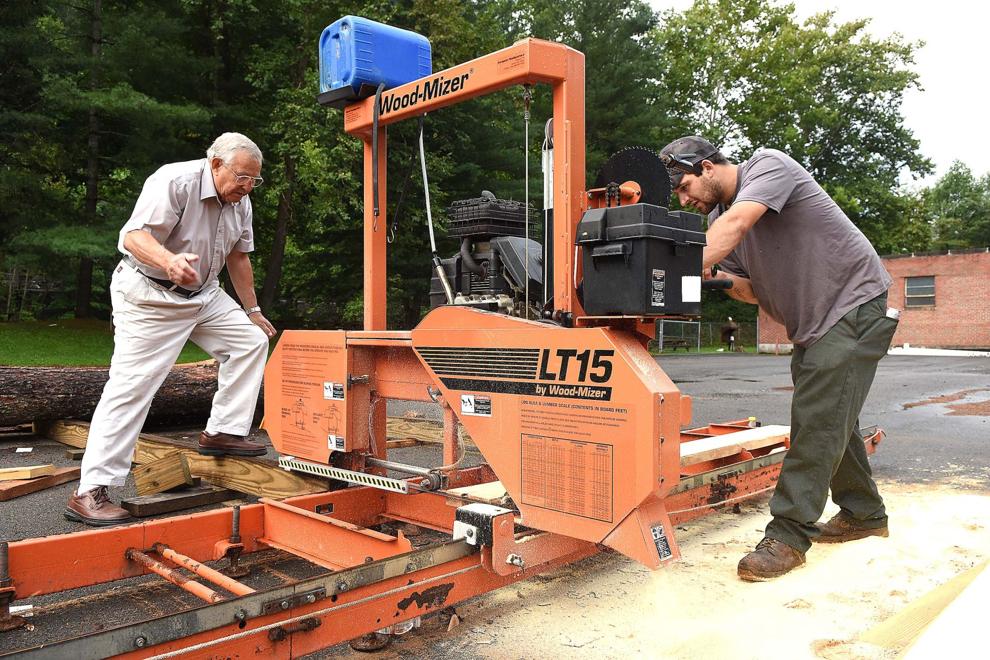 How long ago was that?
In April 2001, I went to a Mullens City Commission meeting and offered to volunteer to do whatever I could to help the city. They gave me a recently completed, high quality Community Design Team plan and supported efforts to build the Rural Appalachian Improvement League, Inc. (RAIL).
The 2001 flood occurred before we could get the plan under way and I spent almost two years assisting with the flood cleanup.
You now drive from Roanoke, Va., to Mullens, W.Va., almost daily to essentially volunteer through RAIL. Why have you decided to do that?
When I first came back to Mullens, I lived with my brother Terry and his wife Bobbie during the week and returned to Roanoke for the weekend.
My wife was not in good health and we decided to continue living in Roanoke because of better medical facilities. Since my wife's death last August, I have spent almost all of my time in Mullens.
What other types of jobs have you had?
I spent my 18th birthday working in a pony mine at Josephine, W.Va., earning $10 per day. My job was to derail runaway coal cars being pulled by a team of ponies to keep them from meeting head-on and killing or crippling each other.
I returned to a mechanized coal mine at Itmann while in college, working on the track for one summer. Had it not been for a family member working on the railroad, who had the influence to get a job for me, I would probably have gone back into the mines.
What did you hope to accomplish when you created RAIL?
My initial interest in volunteering was to find ways to help improve life quality for families living in the coalfields, with a strong interest on environment. My interest was not to demonstrate, but to take what we had and treat our mine-scarred lands as a resource.
One of my goals was to start a watershed association. With the efforts and guidance of RAIL AmeriCorps VISTA Kelly Jo Drey, a very successful and active watershed association (Upper Guyandotte Watershed Association) was founded as a non-profit corporation. When Kelly Jo left, UGWA floundered for several years and finally discontinued operation this year.
RAIL did a study to bring Groundwork USA, a federal program similar to RAIL, to Wyoming County. Although Groundwork was well funded, I did not feel it fit the needs of Wyoming County. Additionally, Groundwork would have to replace RAIL.
RAIL had made a good case to bring Groundwork to Wyoming County, but decided not give up its mission for Groundwork and abandoned its own efforts. Proponents at the federal and local level decided to take on the responsibility of establishing Groundwork in Wyoming County.
Now Groundwork, UGWA, and a dozen or so other similar startups in Wyoming County have failed since the 2001 flood with little visibility of their efforts.
After 16 years of service, RAIL is now more active than ever.
I feel like we have gone beyond what I had hoped for when RAIL was created in 2001.
Hopefully, what has been accomplished by RAIL will convince those that have resources to support its continued efforts.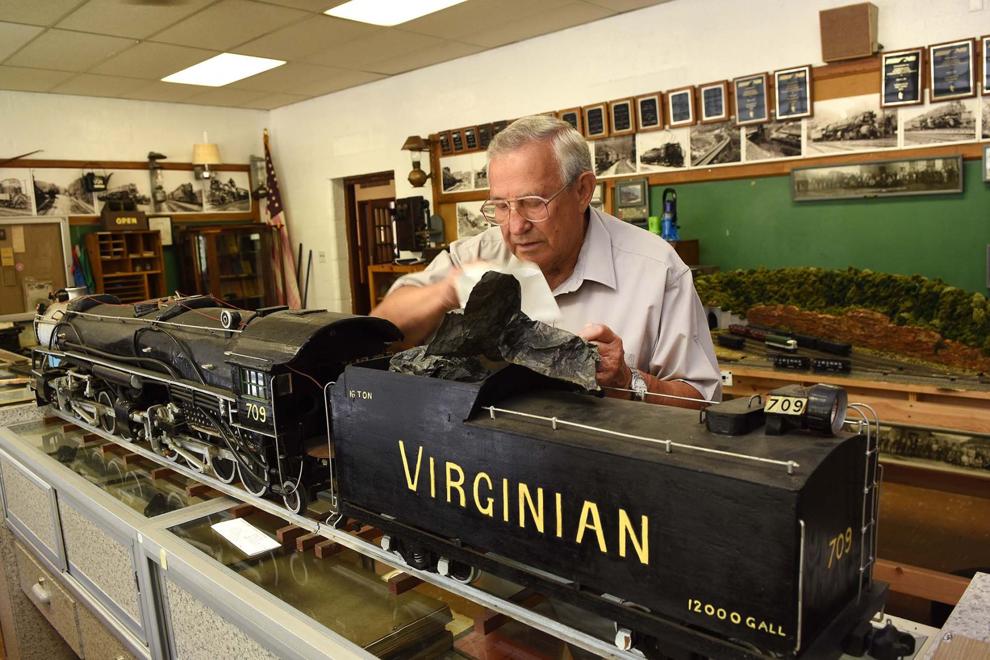 What do you enjoy most about it?
For me, it is most enjoyable to work with the wonderful and loyal staff and volunteers. Charlene Cook does a very good job managing the Mullens Opportunity Center (MOC) which was the former Mullens Grade School. Her assistants include Joey Ashley, Tim McGraw, and Brenda Tilley.
The structures that surround the MOC would not be there without volunteer leader Gary Runion, who also is the first one that gets a call when the electricity or plumbing is malfunctioning.
The RAIL/CCCWV AmeriCorps team – which includes Chris Hicks, Matt Sink, and Wyatt Smith – are all important to maintaining the RAIL facilities and building parks and recreation facilities along the Coal Heritage Trail.
Ruby Ingram is doing an excellent job managing a garden startup program through a Berea College program.
And it is always exciting to work with college spring and fall break teams. University of Kentucky and William and Mary will be visiting in October.
Utilizing the 10,000 hours of volunteer service RAIL receives each year to build sustainable projects is very satisfying and educational for the staff.
For the 2018 spring break, Baltimore University and Delaware University will be here in March. Baltimore has spent their spring break for the past three years establishing an orchard on a nearby abandoned mountain farm.
A friend has provided RAIL a portable sawmill.
A friend has agreed to provide RAIL logs sufficient to build a 17th century hand-hewed log cabin at the former mountain farm orchard.
RAIL volunteers, staff, and AmeriCorps will bring all these resources together, with help from the spring break teams, and leave another tangible asset in Wyoming County.
Not only do we have an authentic mountain hand-hewed cabin, but we are hopeful that one or more of the AmeriCorps will start a business of building and marketing hand-hewed mountain cabins.
Building and marketing cabins meets one of RAIL's goals of using local products in West Virginia to produce jobs.
I firmly believe that people living in the coalfields must solve their social and economic problems. And the best place to start solving those problems is with the young people.
Not much of this can be accomplished without sound management and the best leadership possible.
What frustrates you, or maybe limits you, as president of RAIL?
I will readily admit I am frustrated and disappointed that I am not able to accomplish as much as can be achieved based on available resources. I did not have the education, training, and had only limited energy and intellect which is essential to building a successful business. Perhaps attempting to start a new kind of business at the age of 67 limited my ability to do more.
I firmly believe that if we had a professional person equipped with energy, creativity, intellect, and the desire to help build a new economic base in the coalfields, RAIL would be a much more successful and sustainable organization.
Our local agencies are doing their job and can well use the versatility that a non-profit has to offer in helping build a new and prosperous social order.
The fact that I take no compensation for my labor and work long hours has allowed RAIL to operate somewhat successfully for the past 16 years.
At 82 years old, time, energy, intellect, and an old folk's memory are taking a toll. I would like to have been and should have been gone from RAIL long ago, but finding someone that will work for nothing is difficult.
Sadly, and probably with good reason, funders do not like to fund operating costs which includes people, utilities, and other costs associated with running a business. Not much can happen without a business and I feel like our limited staff and volunteers have built a business worthy of support from agencies and foundations.
So I am frustrated that I cannot compete with other entities that have highly trained and educated grant writers.
How big a difference do you believe RAIL has made for Mullens?
I feel like RAIL has had a positive effect on Mullens. On a national, state, and local level, RAIL is small. Those of us that put our sweat and best efforts into building and maintaining RAIL programs and projects feel our results are effective.
Perhaps giving a synopsis of RAIL's accomplishments in Mullens is in order. A good place to start is with salvaging and taking ownership of the former Mullens Grade School Complex, now called Mullens Opportunity Center (MOC).
The facilities are open to the public and used extensively as a community center. A healthy lifestyle and diabetes prevention and support are offered to the public as a service.
Volunteers have constructed a mini museum/information center patterned after a Virginian outlying telegraph office, concrete handicap access to river, high tunnel, garden complex, and outdoor theater.
Inside the MOC is a railroad museum, excellent fitness center, computer center, gym, two kitchens, and 22 rooms available for a host of uses.
Do you believe you can make a difference in Wyoming County through RAIL? How?
Yes, I think RAIL can help make a positive difference in Wyoming County – socially and economically.
Thanks to CCC WV, RAIL has an AmeriCorps program that not only is a powerful workforce, but it is preparing our young people to become leaders and assist them in starting businesses.
Thanks to the generosity of Pocahontas Land, RAIL now owns the former Itmann Grade School and has established a well-used roadside park along the Coal Heritage Trail.
The mission of RAIL is to help improve life quality for all families in the coalfields, focusing on Wyoming County needs and opportunities.
I would like to emphasize RAIL can only help solve the problems that exist in the coalfields. It takes us all working together to build a new and sustainable economic base.
You've been a proponent of saving the historic buildings in Mullens. Why? And, have you been successful in that?
I feel we need to save historic buildings to preserve their history and also to give local citizens a sense of pride in their community.
It is hard to feel good about your location when you are surrounded by decaying buildings.
In addition, the restoration provides needed jobs and is an excellent opportunity to teach our youth marketable skills.
What do you believe are the attributes of a successful leader? How do you incorporate these attributes as president of RAIL?
Leaders must have capacity to see positive possibilities where others see only negativity. Then leaders turn their dreams into workable plans. They find ways to share their plans that entice, and welcome, others to become involved in implementing the plans.
As RAIL president, I devote hours assessing needs and possibilities; then I work to pair each volunteer, and each employee, with the task for which they are best suited.
How do you want to be remembered after you've left RAIL?
If I am remembered as a man who cared for people, and the environment, and then put that caring into action to work for a better world, then I would feel my life was meaningful.
Anything you want to add?
I think of RAIL as people coming together to improve life quality for all families living in the southern coalfields of West Virginia. Without these people that have worked hard to better conditions in the coalfields, I would have nothing to write about.