Online voting has started and will end 5 p.m. Saturday, July 20. Place your vote at the end of this story, or in the "Question Of The Week" on our main Homepage.
A tiny frog perched in the center of a bright purple flower. A sailboat silhouetted against the sunset on the North Carolina coast. A starry night sky captured in motion at Babcock State Park in West Virginia. A semi-willing participant dressed in a bunny suit highlighted in natural sunlight. 
After several rounds of elimination, a team of judges selected these images as their four finalists in The Register-Herald's Amateur Photo Contest, which welcomed 294 photos from 132 participants. 
These four images will now be judged in two categories — Judges' Choice and People's Choice.
The Judges' Choice Award will be selected by the eight professional photographers whose images are displayed in the front entrance lobby of Beckley Newspapers, located at 801 N. Kanawha St. in Beckley. The People's Choice Award will be selected by votes cast online and in person at the newspaper lobby.
Rick Barbero, chief photographer at The Register-Herald, commended the great work of all the contest entries. 
"Judging was was very difficult because of the large amount of excellent images," he said. "These entries were so good we had to have multiple rounds of elimination to get to our final four."
• • •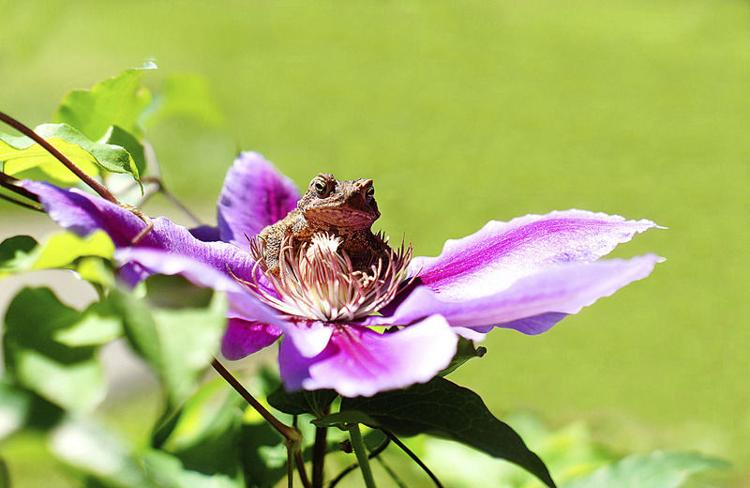 The vibrant color of the photo "Frog in the Flower," taken by April Ball of Oak Hill, grabs the eye of the viewer. But a heartfelt story lies behind the image. 
"It was hot out that day," Ball recalls. "I was walking with my sister in the backyard. I had my camera with me. Even when I'm in my backyard, I'm trying to find things to take pictures of."
She and her sister spotted the amphibian perched in the bloom, and she bent down and snapped several shots. 
"Every time I see it, it reminds me of time I spent in my old house with my dad," she says, noting that her dad had planted the flower for her mother. 
The photo was taken in May 2017, and her father, Bob Ball, passed away in December that year. 
"We had an old porch swing where he would go out and drink coffee," Ball said. "I'd walk by him, he would smile and ask if I was taking pictures again." 
She says Bob, who was a creative man himself, and her entire family have always been supportive of her photography. 
"I got into photography when I was really little. I've always been fascinated with pictures." 
She remembers pulling out the family photo album anytime friends came to visit. 
She discovered her true passion in 2007 when she got a job at Walmart's photo lab. She saved money for a digital camera, and began her journey. 
"I wanted to learn everything. I read the user manual on my camera, I bought books, and I would go out and take pictures of everything."
Ball has since upgraded her camera, and she says she especially enjoys nature and landscape photography.  
• • •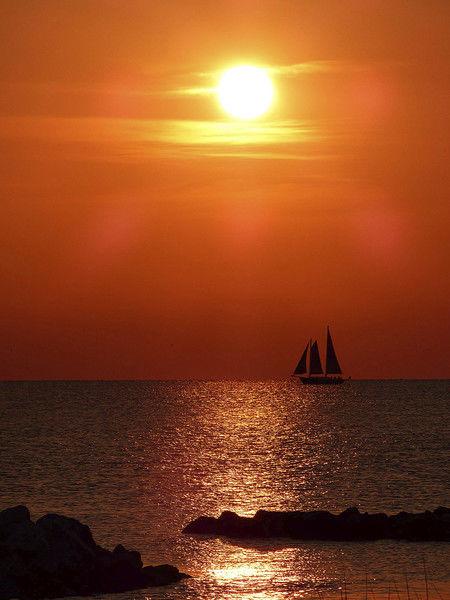 With the blazing sun setting against the North Carolina coast, Cindy Vance of Cool Ridge captures a silhouetted sailboat in "Sails of Tranquility," taken at Ocracoke Island. 
For Vance, the photo itself embodies stress relief, but she also finds the act of photography a relaxing hobby. 
"We started going to the Outer Banks about 20 years ago when the kids were little," she says. "I took pictures of the lighthouse, the ocean and took it from there."
She says she's always leaned toward photography in nature, both at home and on vacation. 
While she's primarily self taught, she did take a photography class once, taught by John Blankenship. 
"He actually told me I have a natural eye for taking pictures," Vance said. 
She was encouraged both by a friend and by her son to enter The Register-Herald's contest. On a last minute whim, she submitted three sunset images from the island. 
"We were there in the first week of June," Vance says. "I like sunset pictures. I thought this one was nice — I loved the colors and how the light reflected on the water."
She says she hopes the image brings viewers the same sense of tranquility it does for her. 
"Maybe it'll take you there, to give you some relaxation." 
Employed as a nurse, Vance says she enjoys finding stillness and peace in nature. 
"It's a great hobby," she says to those who may be interested in photography. "Take lots of pictures, keep practicing and don't give up."
• • •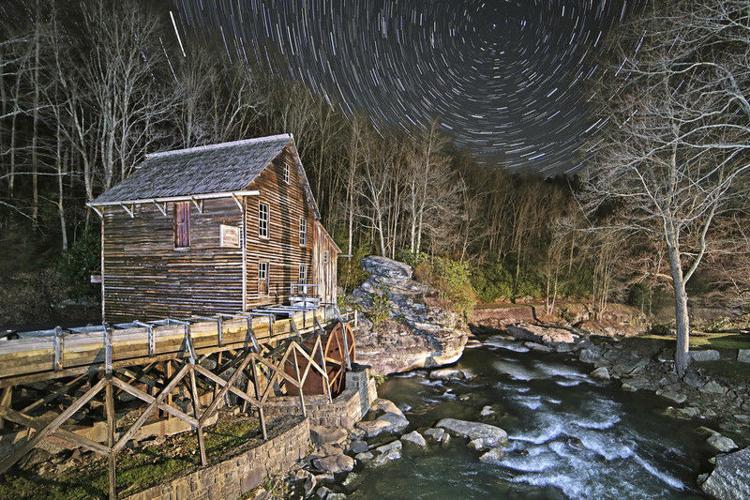 Loyd P. Lowry of Hinton finds inspiration for his photography in West Virginia, sometimes even in the dark. 
"West Virginia is a beautiful state, and I've been tinkering around with a camera for several years," Lowry shares. 
For him, Babcock State Park is one of the most iconic locations photographed in the Mountain State. But instead of taking another daytime shot, Lowry wanted to take a less traditional approach. 
Using a long exposure, he captured the "swirling" night sky at the well-known state park in the image "Polaris Swirl at Babcock." 
"I used a couple different star tracking programs to see where the stars are in the night sky," Lowry explains. "When you do a long exposure, 40 minutes worth of exposure, the motion of Earth makes the stars appear to swirl around Polaris (the North Star)."
The self-taught photographer credits lots of trial and error for his successful images. 
"It's something you just try. There's failures, and you learn from those," he says. "I never took any photography classes. I bought a camera when my son was born." 
He started photographing railroad signs and tracks, then branched out into night photography, astrophotography, architecture and more. 
He especially enjoys the convenience of digital cameras, which allow for easy correction when an image doesn't turn out as he'd envisioned. 
When he was told he was a finalist in The Register-Herald contest, he said he was shocked.
"I don't think too much of my photography," he says. But he decided to give it a try with this particular image.
"It just felt like the right time to show that one." 
• • •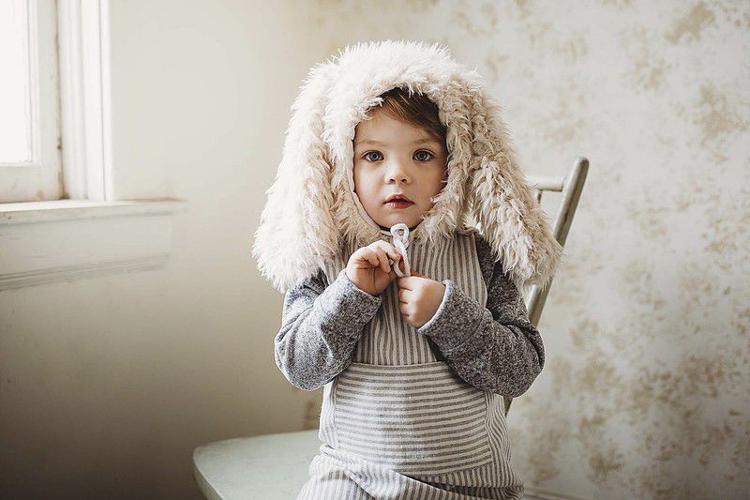 As an art teacher at Trap Hill Middle School, Holly Pittman first teaches her students the rules about art. Then, she encourages them to break them. 
"You're not going to fail for trying, not in my class. There are rules in art to follow, but I feel like when you can successfully break those rules is when you become a great artist," Pittman shares.
"Do it how you want" is a guiding principle she uses for her photography endeavors as well. 
The Beckley teacher captured "Cotton Tail," a photo of her son Colton dressed in a bunny suit, in natural light in a room upstairs at the Coal Bucket Coffee Shop in Mount Hope. 
"I took him to shoot an ad for my Easter session. I bribed him with monster trucks to have him put on the suit," Pittman says, laughing. 
The soft light shines from the window, lighting Colton's face and the delicate patterned wallpaper behind him.  
"I like simple, and I like natural light. I just think it's softer and prettier. I guess I find it fun, too, and challenging working with it and around it."
She says with staged indoor lighting, images can tend to look the same. But with natural light, you'll see softer images in the morning or golden hour backlighting during the evening. 
Pittman picked up a camera for the first time in October 2017. She said after a growing number of requests, she started offering photo sessions.
She says she continues learning and growing in her work, reading photography blogs, studying the work of famous artists, and watching YouTube videos to learn the ins and outs of her cameras.  
• • • 
To cast your vote online, visit register-herald.com. Online voting will begin Monday, July 15, and will end at 5 p.m. on Saturday, July 20.
Photos will also be on display in the newspaper lobby, along with ballot boxes for voting. The lobby is open Monday through Friday from 8:30 a.m. to 5 p.m. Voting in the lobby will end at 5 p.m. Friday, July 19. 
— Email: wholdren@register-herald.com and follow on Twitter @WendyHoldren