PETERS MOUNTAIN — This mountain rises out of the valley floor like a fortress wall rising to the heavens.
As for a political boundary, it is obvious why it was used to separate Monroe County from three Virginia counties just across the ridge.
It is imposing as you approach it, but as you climb its side you feel as if the mountain is alive.
Water pools up from its interior; cuts and sinkholes form its texture; but most of all there is the sound.
At times it is silent, but at other times the mountain is known to roar.
Every morning, retired teacher Becky Crabtree wakes in the shadow of Peters Mountain and nearly every morning she looks at it and listens.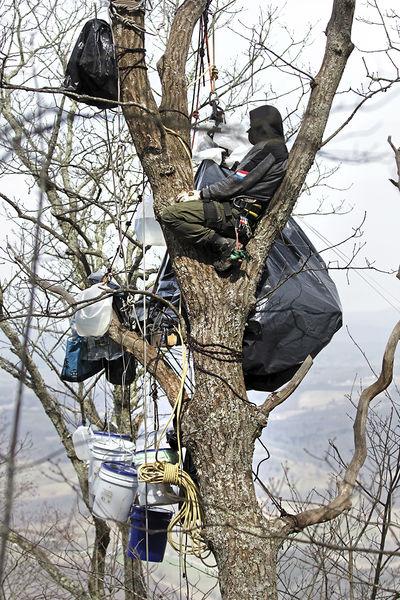 "I write and Peters Mountain comes out in my writing," Crabtree said. "I hear it speaking in the morning, crazy as that may seem. You know when you go out if this mountain is roaring, you know that it's going to be a troubled day, at least weather-wise."
The former science teacher laughed at herself and explained that the phenomenon could easily be explained geophysically because of cold and hot air masses meeting, but added, "It's more than that. To people that live here, it is more than that."
Since Feb. 26, Crabtree and other residents of the Peters Mountain area have been joined by visitors who have also learned the sounds and sights of the mountain.
Those visitors are protesters who have installed themselves high up in the trees near the summit of the mountain in order to place themselves in front of a swath of downed trees that makes it way up the mountain. 
The trees have been cut for the installation of the Mountain Valley Pipeline (MVP) up the side of the mountain before it is planned to run through a borehole to be drilled just below the ridge and the Appalachian Trail and down the Virginia side. The protesters' aim is prevent MVP from cutting any more trees.
From their high perch, those protesters have a panoramic view of the limestone-rich valley below and of Crabtree's home, barn and pastures.
"We have a sheep field there where the red barn is, and the pipeline will be bisecting our sheep field," Crabtree said from the top of the mountain Monday morning as she was there to share her support with the protesters.
"They are standing up for us when our own government is letting us down," Crabtree said. "FERC (the Federal Energy Regulatory Commission) has let us down; the governor let us down. We have no sanity when it comes to protecting the land."
The retired teacher returned to West Virginia from Alaska and had planned for her land to be divided into homesites for her children and grandchildren, only to have her land claimed by the pipeline interests by eminent domain.
"They can't possibly build on top of a pipeline," Crabtree said.
While she is concerned about her land's future, Crabtree is more concerned about what lies below Peters Mountain and the prospect of what she calls an unknown danger to the mountain caused by pipeline construction and operation.
The mountain itself and the limestone-rich valley below are part of a Karst formation which is famous for its sinkholes, caves and a porous nature that lends itself to creating a large aquifer underneath the mountain.
"Most of this county is fed by a watershed through city water that comes from Peters Mountain, and many people have private wells and springs," Crabtree said.
The retired teacher is concerned that an accident along the pipeline could possibly lead to an emergency situation with that water supply, a concern that is also shared by the protesters up in the trees.
Speaking that they had heard the concern from locals, the protester closest to the Appalachian Trail, who is identified as Protester One, shared those concerns. He, another tree-sitter and two supporters are not identified by their names because of their concerns about legal implications.
"They are just afraid that it's (the pipeline) going to be kind of the end of what they thought they were going to rely on for the rest of their lives," Protester One said.
A member of the "Ham Sandwich Brigade" — a name conceived after an attorney for one of the protesters used the example of delivering a ham sandwich to describe a group of protest supporters who have delivered food to the tree-sitters — shared their opinion on the importance of water quality.
That protest supporter has been identified as S.
"What I understand about Appalachia is that water is everywhere," S said. "I think differently than other people. I don't think coal is the most valuable resource in Appalachia; I think that water is."
Looking out over the mountain, S pointed out a spring nearby, along with cattle ponds and streams below.
"All that is fed from the mountains," S said.
S, who came from southeastern Ohio to support the protest, shared concern about pipelines from events that have taken place in S's own backyard.
According to the protester, a 60-year-old pipeline goes very near S's home.
Six years ago that pipeline blew and, though five miles away, S could feel the explosion through the ground.
S views the pipeline as just another extension of an extraction industry that has stripped wealth from the region and although S has relatives inside the pipeline industry, S places much animosity on the pipeline owners, calling the bosses nothing but modern-day carpetbaggers.
Protester One also shared his opinion on the ownership and management of the pipelines, while stating they do not judge the actual pipeline workers for what they do.
"I think companies, corporations do a really good job of convincing workers that their entire identity is wound up in the occupations that they have," Protester One said. "I don't know what kind of money workers are making for MVP. I'm sure it's not nearly as much as the head of MVP is making, and that right in itself speaks volumes."
Another member of the "Ham Sandwich Brigade," identified as D, shared an experience growing up in Mingo County, which D described as a ghost town caused by the extraction industry leaving.
"When I see that happening to a new place like Monroe County and these places that haven't seen extraction, in the same way, it just breaks my heart and I don't want to see places like Monroe County look like where I grew up," D said.
Those feelings were also shared by Crabtree, who 40 years ago taught in McDowell County.
"I saw the boom," the retired teacher said. "I saw the people becoming wealthy as coal miners, and I saw the new cars and the dishes and the campers. Go to McDowell County now. See what extracting natural resources leaves behind. When the boom is over and it's bust time, the train tracks are still there, the mines are still there, but there's nothing for corporations to make money from."
Further down the slope and closer to the cutting, a second tree-sitter, identified as Protester Two, said he has spent his time taking in the beauty of the view, reading and looking at the intricate nature of the forest surrounding them.
"A whole bunch of people are going to harmed if this pipeline is built," Protester Two said. "I have been meeting people all along the way that are scared, but I am also meeting people that have a conviction to figure out how to do this together. That's what I am focused on. We will see where it takes us, but I know that people have done things that were unimaginable before and I believe in our ability to do that."
Protester One is also aware of voiced support for their cause and said the support has bolstered their spirits.
The same can be said for Crabtree, who, though her land has been claimed under eminent domain, is part of a suit against the action.
"Enough money has not been minted for us to give up our land," the retired teacher said.
— Email: mcombs@register-herald.com; follow on Twitter @mattcombsRH
• • •
A second hearing on an injunction sought by Mountain Valley Pipeline to stop the protestors from sitting in the trees will be held today at 10:30 a.m. at the Monroe County Courthouse in Union.
In a March 13 hearing, Circuit Court Judge Robert Irons granted the injunction with the stipulation that attorneys for MVP file the proper documents that allow them to cut trees within the boundaries of the Appalachian Trial. 
While MVP lawyers did file a Notice to Proceed for the West Virginia portion of the pipeline, a question remains about whether it covers the area in question. This is the subject of today's hearing.