Raleigh County Schools will not make a permanent plan for returning to school on Jan. 19 until the West Virginia Board of Education issues guidelines for local school boards, Raleigh Superintendent of Schools David Price said Tuesday.
Gov. Jim Justice on Monday said that he will issue an executive order that allows schools to return to in-person learning on Tuesday, Jan. 19. He had made a similar announcement on Dec. 30.  According to Price, however, the governor's order does not define "in-person learning." He said the state BOE, which meets Wednesday, will take up that question. 
"We'll wait and see what the school board has to say, before we make a final decision," said Price. "My hope would be, right now, that I could recommend to the board that we remain blended until our employees are able to get vaccinated and the numbers (of Raleigh Covid cases) come down, and we can go back to school safely."
He said that of the 1,610 full-time Raleigh Schools employees, 343 staff members who are at least 50 years old were vaccinated Friday under Justice's Operation SOW program to vaccinate middle-aged and older school personnel and the elderly.
Raleigh County on Tuesday had a positive test rate of 8.42 percent and an infection rate of 77.11 – both metrics in red, the worst, on the state's color-coded rating system.
Raleigh schools splits the student body in half by surname and provides socially distanced buses, classrooms and cafeterias for in-person learning twice a week. Learning is delivered remotely for the remaining three days.
Price said that fitting students into many larger Raleigh County schools — like Woodrow Wilson High School, with a population of about 1,300 and Shady Spring Elementary School, which has a population of about 600 — will present challenges to teachers and students who must also follow the social distancing guidelines recommended by the Centers for Disease Control and Prevention.
Class changes and dining will be challenging, he specified.
"We do have some challenges and concerns with some of our class sizes, with being able to follow some of the guidance and guidelines in some of our schools," said Price. "With that said, we are also, prior to making any final decisions, waiting to see exactly what the state BOE says and what options we truly do have, and then we will make a decision, based on that.
"We'll see what kind of flexibility we have, and the guidance we have, after their meeting tomorrow."
The issue, said Price, is the definition of "in-person" learning. "In-person" could possibly include remote learning in which students learn remotely from their classroom teachers and are able to communicate electronically.
Under Justice's order, high school students will attend school five days per week unless the local district registers red on the state's color coded map. Justice is thinking about raising the standard for red on the state map in order to keep more high schools open. Orange, the second worst rating color, would no longer prohibit in-person instruction as it has. 
Elementary and middle school students, according to the governor's plan, will go five days per week, regardless.
But the fluid nature of Covid-19 has taught school administrators to be cautious about making plans.
"Even though the 19th is Tuesday, it's still premature," said Price, one week before the projected opening. "We've been working, in part, to make sure if we must go back four or five days a week that we try to prepare to do that.
"As soon as we are able to do that without backing out and changing direction once we make a decision, that's what we want."
On Monday, Justice said winter sports games may begin March 3, if students are in class. Practices may begin in Feb. if schools are in class.
Under state guidelines, students must have a minimum of 14 practices before playing games.
•••
Summers County posted Covid statistics much like Raleigh County on Tuesday, with both its positive test rate and infection rate in red at 8.28 percent and 93.17, respectively.
Teachers, however, were working.
At Jumping Branch Elementary School in Summers County, first grade teacher Pearl Knott was also readying her classroom and lesson plans for the students' return to school.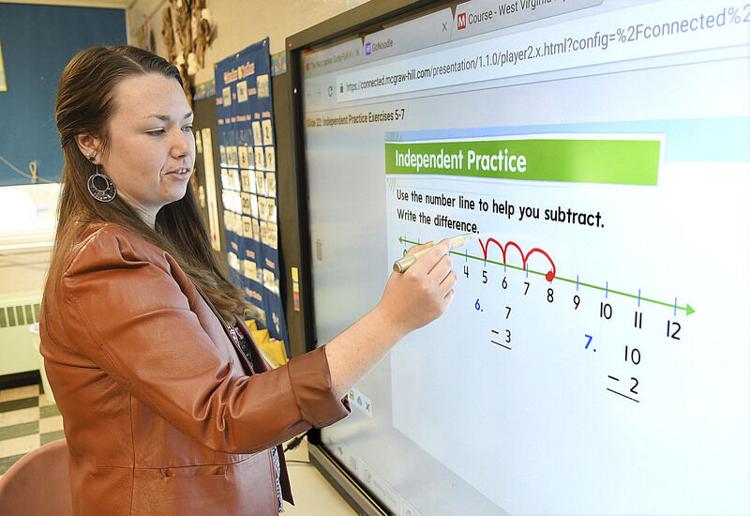 "I think kids need to come back to school," said Knott. "I think school is the safe place for them to be."
Although Summers offers the same blended model and totally virtual model as Raleigh, the district also offered a "fully remote" option which allowed students to learn at home and still communicate via email and zoom with their classroom teachers.
Knott's classroom differs from a classroom at the more populous Shady Spring Elementary School in Raleigh County, which is about 10 miles northwest along State Highway 3.
For starters, she reported, there were 89 students at Jumping Branch Elementary during the 2019-2020 school year prior to Covid. This school year, she had a total of eight students in her 1st grade classroom. Only two were placed on fully remote learning during the year, said Knott.
"Those two, I've been visiting with them frequently throughout the year, so I think they're going to be OK with me," she said. 
The remaining six were enrolled in the blended model.
Despite the best efforts of students and teachers, most students find that remote learning is not as effective as face-to-face delivery of education.
"I'm concerned that (students in general) are not going to be able to catch up with what they received in the spring," said Knott, adding that remote breaks were a contributing factor to the lag.  "I've been testing my kids this week, and they aren't learning very much at home, so I think they'll need to come back."
She said she has no concerns about social distancing.
"My class is very small, so they can distance themselves very well," she explained. "Teacherwise, we don't just group on each other.
"Cleanlinesswise, our janitor Melba Basham is the bomb. She keeps our school so clean you can eat off the floor."
Teachers are mandatory reporters of child abuse and neglect. With students at home, Justice had said, suspected child abuse cases were going unreported.
"None of the kids in my class are having any real, deep worries, but there's always some kid, somewhere, we should be worrying about," Knott noted.
She said that students will likely perform better, generally, when class time resumes, than many are predicting.
"As teachers, we probably worry more than we should," she said. "They're probably OK.
"But I just want them to be really good."