CHARLESTON — In response to debate over removing Confederate monuments from public lands, a bill sponsored by eight Republicans, including Sue Cline of Wyoming County, passed out of the Senate Committee on Government Organization on Tuesday.
The bill, dubbed the West Virginia Monument and Memorial Protection Act of 2018, prohibits the removal, renaming, alteration or relocation of any statue, monument, memorial, school, street, bridge, building or park recognized by the West Virginia State Historic Preservation Office.
The monument would have to be more than 50 years old, on public property, and named in honor of historical, military, labor, civil rights and or Native American events, figures and organizations.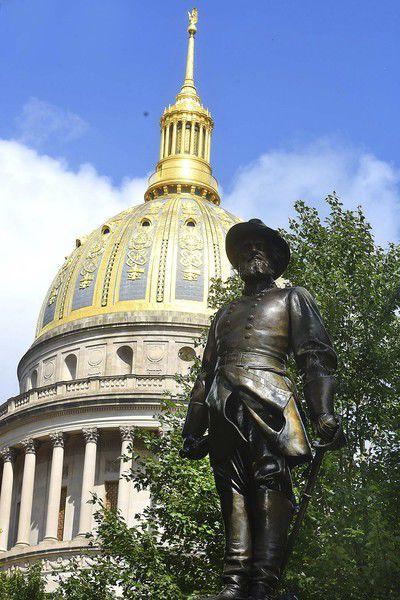 The bill's lead sponsor is Sen. Mark Maynard, R-Wayne, and in addition to Cline is also sponsored by Sens. Mike Azinger, R-Wood; Robert Karnes, R-Upshur; Patricia Rucker, R-Jefferson; Randy Smith, R-Tucker; Dave Sypolt, R-Preston; and Greg Boso, R-Nicholas.
The bill now heads to the Senate Committee on Finance.
The original version of the bill featured a petition process going through the Division of Culture and History. However, when members of that organization expressed dismay at making politically charged decisions, a substitute version changed the language to say the Legislature would be responsible in granting waivers through a petition process.
Sen. Corey Palumbo, D-Kanawha, asked the committee's counsel what would happen if officials at Stonewall Jackson Middle School wanted to rename the school. Under the bill, the request would have to go before the Legislature to get approval, Palumbo was told.
Sen. Stephen Baldwin, D-Greenbrier, asked what would happen if a monument is paid for privately but placed on public lands. Again, the committee's counsel said as long as the monument was recognized as historical, older than 50 years and fit within the other categories, the request would have to go before the Legislature.
Sen. Charles Clements, R-Wetzel, questioned whether the legislation was in response to debate over removing Confederate monuments. Legislative counsel said it was.
Palumbo asked specifically if any monuments have been attempted to be removed. Susan Pierce, director of the Historic Preservation Office, said in her 30 years at the office, she does not remember a statue being removed.
Before the bill passed in a voice vote, Palumbo spoke in opposition, saying the bill is not needed.
"We heard from the Historic Preservation Office that this is not an issue that has occurred in the last 30 years," Palumbo said. "This is not a problem. … It just doesn't make sense. We have a process in place right now that has not resulted in any problems. We are passing a statute likely to cause additional problems and additional work for the Legislature for no apparent reason."
Eli Baumwell, policy director of the ACLU-West Virginia, released a statement following the committee's vote, saying the only impetus he saw for the Monument Protection Act was to protect Confederate monuments.
"This would be offensive at any time, but with all the issues facing our state, it's an inexcusable waste of our Legislature's limited time," Baumwell said. "We hope the chair of the Finance Committee has the sense to ignore this hateful legislation and focus on the real issues."
Email: alannom@register-herald.com; follow on Twitter @AndreaLannom